Character creation was a simple and easy. Period. I particularly liked the 'bonds' section.

Flow is crazy! We were all astounded when Matt concluded by informing us we had completed 3 combats in the course of pursuing the MacGuffin.

There most confusing aspect was realising the mechanics of the characters were not the summation of who or what the character was or could do.
To expand on that, IMHO, the moves that each character could perform where there to outline the role not finitely define it.

Again, flow is what you want when you just want a good game.

_________________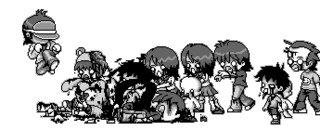 Hornet wrote:

Ignore as I am a retard
Hornet wrote:

I'm literally gagging for one.
Hornet wrote:

Shamus of the prolapsed anus perhaps
OMNIS QVI CORVSCAT EST OR